---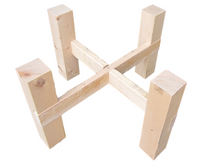 Sale
Made of new and re-claimed wood by a local builder, these stands are notched in an x formation and don't require screws or nails to assemble - just fit the 2 pieces together.  Lightweight, easy to carry, pack and store, these stands help provide a sturdy elevated base for your rain barrel. Base takes up approximately 2 ft x 2ft when assembled. 

May not be exactly as shown since this product is partially made from re-claimed wood.
For more information, email us at products@greencalgary.org.
Shipping fee is based on weight and may increase the cost of shipping a rain barrel to the next shipping bracket. Shipping available in Calgary area only.